Note: We ask that before proceeding, please read the update related to Covid-19, as well as, new procedures and precautions being undertaken by our drivers.  
For dates, bookings, and all other inquiries please call us at 519-660-1430.
Door-to-door round trip transportation to wellness-related appointments
Appointments up to three hours
$24 round-trip rides throughout London
Subsidy available based on income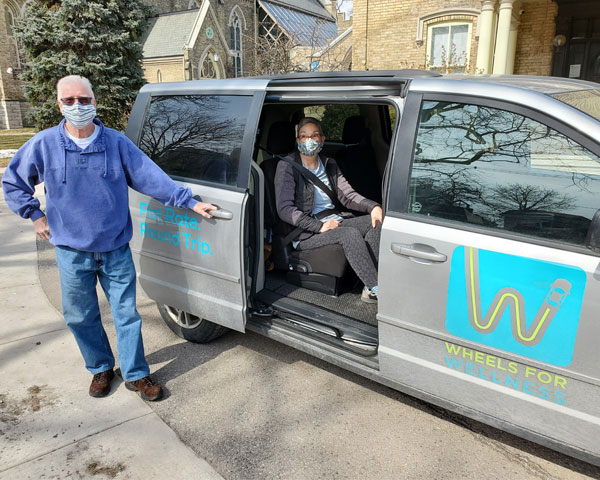 Cost: $24.00 per round trip. (Subsidy available based on income.)
Clients are responsible for any parking charges at the time of the ride, if applicable.
Rides must be booked a minimum of one full week in advance.
We accommodate short term appointments only, up to 3 hour maximum appointment time.
Cancellation must be received by 12:00 noon the day prior to the appointment.
An administration fee of $5.00 will be billed if bookings are not cancelled by 12 noon the day before a scheduled ride.
Monday rides must be cancelled the previous Friday by 12 noon.
Requests are prioritized and depend on availability of volunteers, no request is guaranteed.
Requests will be confirmed within 2 working days of appointments.
Rides are completed within Meals on Wheels London business hours; the earliest appointment time accepted is 8:30 a.m.
Afternoon appointments should allow for all clients to be home by 4:30 pm.
Clients are billed for all rides at the end of each month.
Meals on Wheels London provides service to adults 18+ with disabilities and seniors 55+ in need of transportation support. These needs can be short-term (caregiver relief, recuperation, seasonal) or long-term assistance. No long-term contract is required. 
No transportation for children or pets
No transportation following day surgery or any procedure that requires general anesthetic or sedatives
No transporting persons who require wheelchairs, scooters or heavy walkers
We cannot provide assistance getting in and out of the vehicle